AI solution for standard radiography fracture detection
BoneView is a trauma decision support tool. BoneView analyzes x-rays, gives an assessment of the presence of fractures at the examination scale and locates the fractures on each image by presenting them to the practitioner directly on his screen, without any other logistical constraint for the doctor.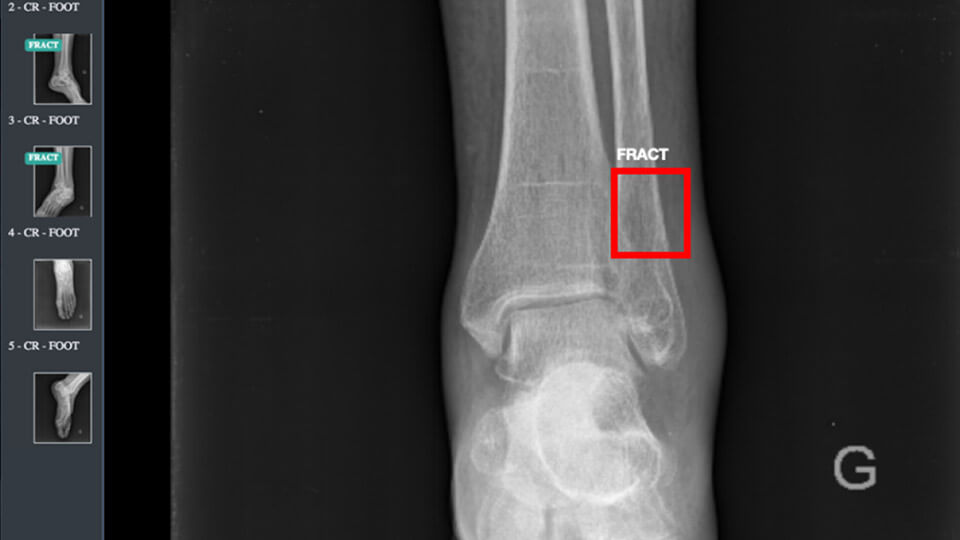 Detection and localization of fractures on x-ray images
Every X-ray image of an examination is enriched with enclosing boxes around the region where a fracture is present or suspected to be present.
Classification and sorting of exams into three categories
The examination is classified into three categories: presence of a fracture, suspicion of fracture's presence, or absence of fracture. This automatic triage of cases into three categories, and therefore rapid identification of normal cases can be presented directly at the patient list level.
musculoskeletal
lumbar rachis
anatomical extremities
rib cage
fracture
x-ray
detection
Save time, reassure your diagnosis and streamline your workflow with Incepto
Assisting radiologists requires the highest standards. To achieve this, we conducted an ambitious clinical study involving 6 radiologists and 6 emergency physicians who were asked to interpret 600 trauma x-ray examinations, half with BoneView, half without. The combined view of the RN and the practitioner resulted in a 30% reduction in the rate of undetected fractures, while significantly reducing the reading time
Christian Allouche,
CEO Gleamer
Assessment of an AI Aid in Detection of Adult Appendicular Skeletal Fractures by Emergency Physicians and Radiologists: A Multicenter Cross-sectional Diagnostic Study. Loïc Duron & al. Radiology. 2021. DOI : 10.1148/radiol.2021203886
Explore our other solutions