AI solution for automatic ASPECT scoring
CINA-ASPECTS, an

AI-based automatic quantification tool enabling faster, more consistent and more precise interpretation

of

non-contrast head CT scan

of pa

tients with acute ischemic stroke

and

known MCA or ICA occlusion

.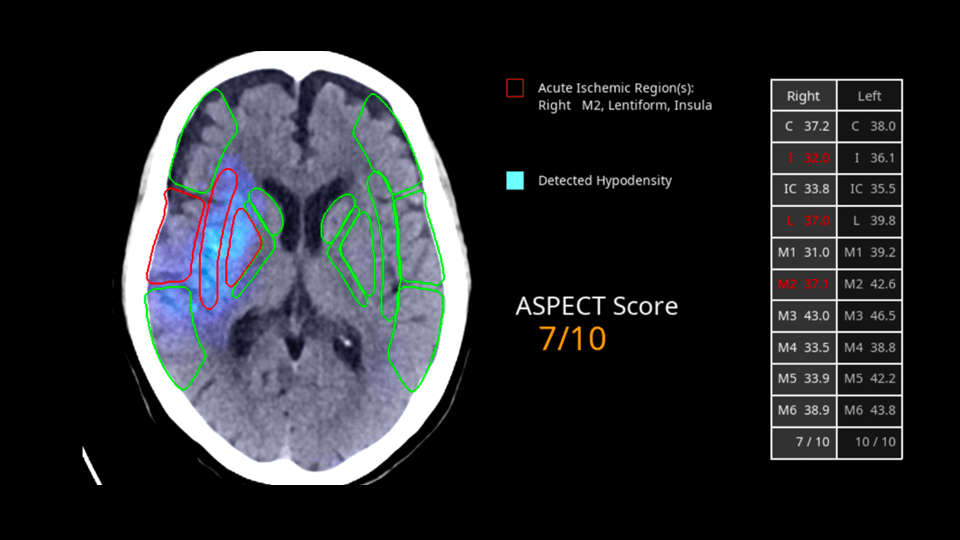 Tilt Assist

:
Provides radiologists with a 5mm NCCT axial reformat that reorients scan positioning and allows easier review of ASPECTS exams when comparing hemispheres. 
Mapping of infarcted

regions:
Same Tilt Assist NCCT with an overlay of segmented ASPECTS scoring territories, and heatmap to indicate probability of hypodensity and sulcal effacement.
ASPECT score summary table:
CINA-ASPECTS provides an ASPECTS scoring table indicating the Hounsfield Unit Measures from each territory. The side with more perceived ischemic change will be shown in red highlighted values which are used to calculate a score from 0-10. Region keys are provided for reference with this secondary capture series. 
Save time, secure your diagnosis and optimise your workflow with Incepto
"When dealing with a stroke, time is of the essence, and being able to prioritize effectively is critical to saving lives and improving outcomes. Not only does CINA helps radiologists to identify pathologies quickly, but also to highlight those that require the most urgent care."
Dr Peter Chang,​
Radiologist
UC Irvine School of Medicine (US)
Soun

, J. E., Chow, D. S.,

Nagamine

, M.,

Takhtawala

, R. S.,

Filippi

, C. G., Yu, W., & Chang, P. D. (2021).

Artificial Intelligence and Acute Stroke Imaging. 

AJNR. American journal of neuroradiology

, 

42

(1), 2–11.

https://doi.org/10.3174/ajnr.A6883

 

Founded in 2018, Avicenna.AI was born from a collaboration between Cyril Di Grandi, a software and medical device expert, and Peter Chang, MD, a radiologist and AI expert.
The company has assembled a team of experienced, dynamic and motivated professionals from multiple fields of expertise, from radiologists to software engineers, who believe in the power of new technologies to meet today's clinical needs.
The CINA medical device is a regulated health product that carries the CE mark, Class I. Manufacturer: AVICENNA.AI. CINA is a diagnostic tool and should not be used alone to recommend medical management for diagnostic purposes. Please read the instructions in the user manual carefully. Please contact contact@incepto-medical.com for more information. Last update: 14/02/2023