AI solution for breast cancer detection and diagnosis
Transpara assists radiologists in their interpretation of a mammography exam. Transpara provides a probability of the presence of breast cancer based on automatically detected and AI-scored lesions.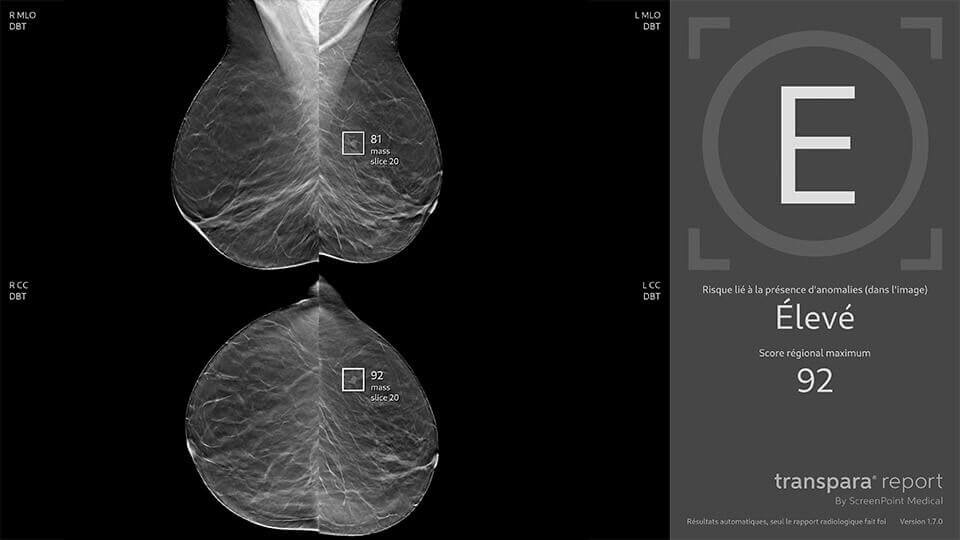 Automatic lesion detection: soft tissue lesions and microcalcifications
Segmentation and contouring of suspicious regions.
Evaluation of the level of malignancy of each lesion detected.
Definition of a regional score for each microcalcification and suspicious tissue lesion.
Analysis of the overall probability that cancer is present in a mammogram.
Categorization of the examination based on an overall score.
breast cancer
microcalcifications
tomosynthesis
mammography
soft tissue injury
3D
lesion
Save time, reassure your diagnosis and streamline your workflow with Incepto
When I see a score of 1 or 2, even in dense breasts, I become very calm. Obviously, I analyze the mammogram very carefully, but more calmly and quickly than before, which leaves me more time to focus on the less favorable results. On the other hand, when the scores are 8, 9 and 10, I trust the abnormalities indicated by Transpara and I am even more attentive to my analysis.
Dr Marc Abehsera,
Senologist and radiologist
Paris American Hospital
Schaffter, T.

et al.

Evaluation of Combined Artificial Intelligence and Radiologist Assessment to Interpret Screening Mammograms.

JAMA Netw Open

3

, e200265 (2020).

Sasaki, M.

et al.

Artificial intelligence for breast cancer detection in mammography: experience of use of the ScreenPoint Medical Transpara system in 310 Japanese women.

Breast Cancer

27

, 642–651 (2020).

Lång, K.

et al.

Identifying normal mammograms in a large screening population using artificial intelligence.

Eur Radiol

(2020) doi:

10.1007/s00330-020-07165-1

.

Rodriguez-Ruiz, A.

et al.

Can we reduce the workload of mammographic screening by automatic identification of normal exams with artificial intelligence? A feasibility study.

Eur Radiol

29

, 4825–4832 (2019).

Rodriguez-Ruiz, A.

et al.

Stand-Alone Artificial Intelligence for Breast Cancer Detection in Mammography: Comparison With 101 Radiologists. 7 (2019).

Le, E. P. V., Wang, Y., Huang, Y., Hickman, S. & Gilbert, F. J. Artificial intelligence in breast imaging.

Clinical Radiology

74

, 357–366 (2019).

Bahl, M. Detecting Breast Cancers with Mammography:

Radiology

2 (2019) doi:

https://doi.org/10.1148/radiol.2018182404

.

Rodríguez-Ruiz, A.

et al.

Detection of Breast Cancer with Mammography: Effect of an Artificial Intelligence Support System.

Radiology

181371 (2018) doi:

10.1148/radiol.2018181371

.

Hupse, R.

et al.

Computer-aided Detection of Masses at Mammography: Interactive Decision Support versus Prompts.

Radiology

266

, 123–129 (2013).