AI solution for MRI
sequences
optimization
SubtleMR

 is an artificial intelligence solution that optimizes MRI sequences.  This solution applies to all anatomies, all machines, all field strengths up to 3T and 99% of sequences, in 2D and 3D. 

SubtleMR

 fits seamlessly into your current workflow. The standard protocol is replaced by a fast protocol (time reduction up to 45%). This accelerated series is then enhanced by 

SubtleMR

 to obtain an image of equivalent quality. This final image is available on your PACS or review station as an additional series.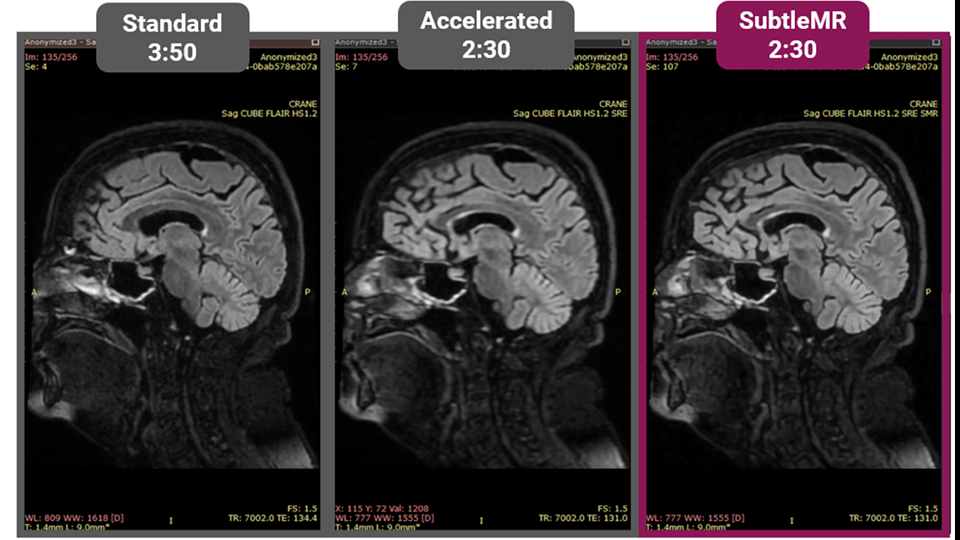 Denoising

 
Improvement of the SNR of accelerated series.
Resolution

 

enhancement

 
Enhancing the spatial resolution of accelerated series.
MRI
nuclear medecine
scanner
Save time, reassure your diagnosis and streamline your workflow with Incepto
Deep Learning Enables 60%

Accelerated

 Volumetric Brain MRI 

While

 

Preserving

 Quantitative 

Performance:

 A Prospective, 

Multicenter

, 

Multireader

 

Trial 

 -

 

S. Bash, L. Wang, C. Airriess, G. Zaharchuk, E. Gong, A. Shankaranarayanan, and L.N. Tanenbaum

 

Deep Learning Image 

Processing

 Enables 40% 

Faster

 Spinal MR Scans 

which

 Match or 

Exceed

 Quality of Standard of Care

 – 

S. Bash, B. Johnson, W. Gibbs, T. Zhang, A. Shankaranarayanan, L.N. Tanenbaum

 

Clinical

 

Assessment

 of Deep Learning–based Super-Resolution for 3D Volumetric Brain MRI

 – 

Jeffrey D. 

Rudie

, Tyler Gleason, Matthew J. 

Barkovich

, David M. Wilson, Ajit Shankaranarayanan, Tao Zhang, Long Wang, Enhao Gong, Greg Zaharchuk, Javier E. Villanueva-Meyer