AI solution for the diagnosis of chest x-rays
qXR is a tool assiting radiologists and emergency services in the detection of chest pathologies in x-ray imaging. qXR analyzes x-rays, detects numerous chest pathologies (lung, pleura and mediastinum) and integrates the result into the radiologist's usual reading environment. A work list with the classification of examinations into "normal" and "abnormal" allows radiologists and emergency physicians to prioritize patients flow in ER settings.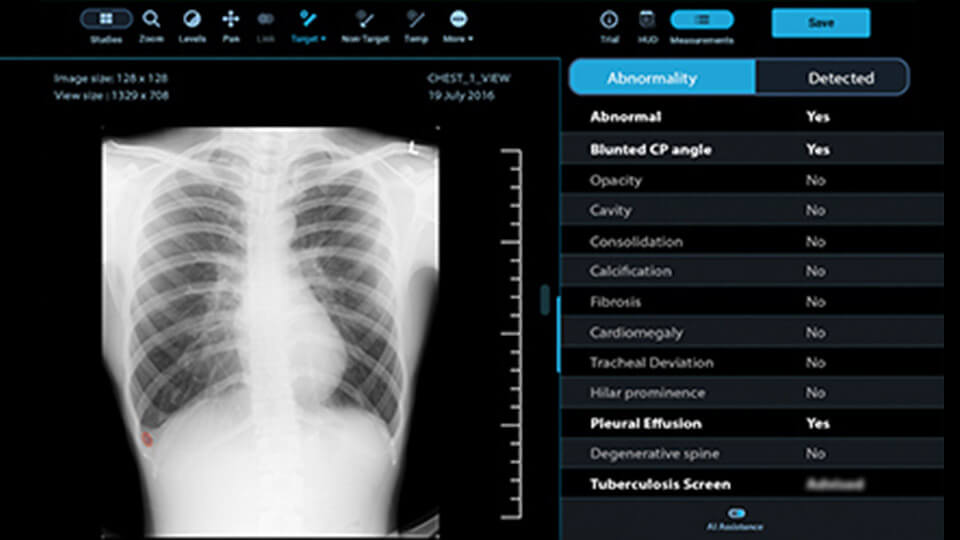 Automatic detection and localization of thoracic pathologies on the lung, pleura and mediastinum
For example, the qXR solution detects opacities such as cavities, cardiomegaly, effusions, pneumothorax … The solution also allows screening for tuberculosis and COVID 19.
Automatic classification and sorting of exams as normal / abnormal within a work list
The qXR algorithm offers radiologists and emergency physicians a comprehensive overview of the AI results of all exams of the day with normal / abnormal triage.
Automated production of a report incorporating an annotated image and detected and localized pathologies
qXR generates a pre-filled report that contains the annotated images, information on the normal / abnormal nature of the exam and any anomalies detected and their localization.
chest pathologies
lung
pleura
mediastinum
opacitities
pneumothorax
effusions
x-ray
Save time, reassure your diagnosis and streamline your workflow with Incepto
United Nations Scientific Committee on the Effects of Atomic Radiation.Sources and Effects of Ionizing Radiation: UNSCEAR 2008 Report. Vol 1. New York, NY: United Nations; 2010.
Forrest JV, Friedman PJ. Radiologic errors in patients with lung cancer. West J Med. 1981; 134:485– 490. PMID: 7257363
Donald J, Barnard SA.Common patterns in 558 diagnostic Radiology Errors.J Med Imaging Radi at Oncol.2012 ; 56(2):173-178. doi:10.1111/j.1754-9485.2012.02348.x
Can Artificial Intelligence Reliably Report Chest X-Rays? Radiologist Validation of an Algorithm trained on 2.3 Million X-Rays. arXiv:1807.07455v2 [cs.CV] 4 Jun 2019
Deep learning in chest radiography: Detection of findings and presence of change. Ramandeep SinghID1,2, Mannudeep K. Kalra1,2, Chayanin NitiwarangkulID1,2,3, John A. Patti1,2, Fatemeh Homayounieh1,2, Atul Padole1,2, Pooja Rao4, Preetham Putha4, Victorine V. Muse1,2, Amita Sharma1,2, Subba R. Digumarthy . PLOS ONE | https://doi.org/10.1371/journal.pone.0204155 October 4, 2018