AI solution for lung nodule detection and management on chest CT scans
Veye Lung Nodules supports radiologist in detecting and assessing pulmonary nodules in tomodensitometry. Veye Lung Nodules automatically analyze hundreds of DICOM images from a chest CT scan to detecte, quantify, classify and track nodules, in a fully integrated environment with the usual radiology workflow and infrastructure.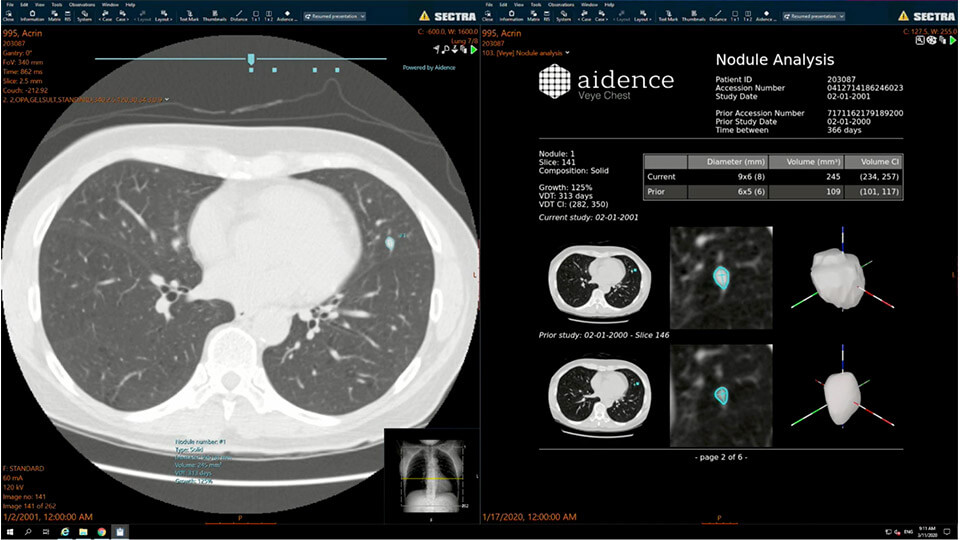 Automatic detection and caracterization of pulmonary nodules
Veye Lung Nodules performs measures in 2D and 3D settings, classify solid and sub-solid nodules (including ground glass opacity) and has an adjustable detection threshold.
Lung nodule growth assessment if most prior recent exam available in the PACS
Veye Lung Nodules automatically assess growth percentages and volume doubling times (VDT).
Automatic generation of a guideline-driven report and integration of an additional serie directly into the PACS
Veye reporting is populated with informations about lung nodules detection and growth assessment. Report contains a full description on every nodule detected (diametre, volume, typology, VDT, ..) and a 3D rendering.
lung cancer
nodule
pulmonary
scanner
chest CT
detection
growth assessment
Save time, reassure your diagnosis and streamline your workflow with Incepto
Veye Chest nous aide en détectant automatiquement les nodules, en les mesurant et en les comparant en parallèle aux images précédentes. Cela nous aide à passer plus de temps avec les patients et les praticiens, et à mieux faire notre travail.
Dr Wouter de Monyé,
Spaarne Gasthuis,
Haarlem, Pays-Bas
Lung Nodule and Cancer Detection in CT Screening. Geoffrey D Rubin, MD. J Thorac Imaging. 2015 Mar; 30(2): 130–138.
Med Image Anal. 2019 Jul;55:15-26. doi: 10.1016/j.media.2019.03.010. Epub 2019 Mar 28. Pulmonary nodule detection in CT scans with equivariant CNNs. Winkels M1, Cohen TS2.
Explore our other solutions