AI solution for lung nodule detection and management on chest CT scans
Veye Lung Nodules supports radiologist

s

in detecting and assessing pulmonary nodules

on chest CTs.

It

automatically analy

ses

hundreds of DICOM images

scan to detect

e

, quantify,

measure,

classify and track

the growth of pulmonary

nodules.

Veye Lung Nodules delivers its results in

a fully integrated environment

,

with

in

the usual radiology workflow and infrastructure.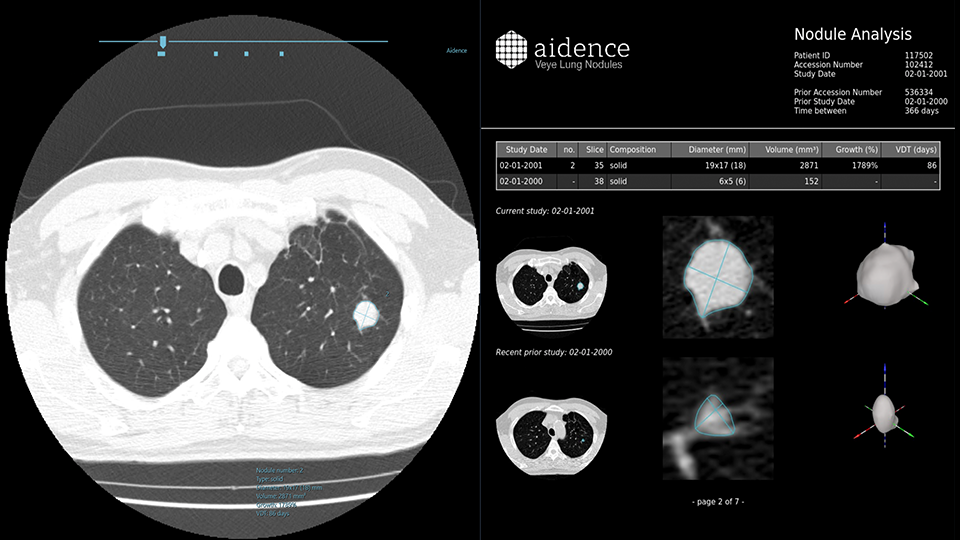 Automatic detection and characterisation of pulmonary nodules
Veye Lung Nodules performs measurements in 2D and 3D settings, classifies solid and sub-solid nodules (including ground–glass opacity) and has an adjustable detection threshold.
Lung nodule growth assessment if most recent prior available in the PACS
Veye Lung Nodules retrieves the most recent prior, if available, and automatically assesses the growth percentage and volume doubling time (VDT) for each nodule.
Automatic generation of a guideline-driven report and integration of an additional series directly into the PACS
Veye Reporting prepopulates a report with results from Veye Lung Nodules, following lung cancer screening protocols. The report contains a complete description of every nodule detected (diameter, volume, typology, VDT, ..) and a 3D rendering.
lung cancer
nodule
pulmonary
scanner
chest CT
detection
growth assessment
Save time, gain confidence in your diagnosis and streamline your workflow with Incepto
"Veye Lung Nodules helps us by automatically detecting the nodules, measuring them and comparing them to the previous images. It helps us spend more time with patients and practitioners, and do our jobs better."
Dr Wouter de Monyé,
Spaarne Gasthuis,
Haarlem, the Netherlands
Lung Nodule and Cancer Detection in CT Screening. Geoffrey D Rubin, MD. J Thorac Imaging. 2015 Mar; 30(2): 130–138.
Med Image Anal. 2019 Jul;55:15-26. doi: 10.1016/j.media.2019.03.010. Epub 2019 Mar 28. Pulmonary nodule detection in CT scans with equivariant CNNs. Winkels M1, Cohen TS2.

Martins Jarnalo CO, Linsen PVM, Blazís SP, van der Valk PHM, Dickerscheid DBM. Clinical evaluation of a deep-learning-based computer-aided detection system for the detection of pulmonary nodules in a large teaching hospital. Clin Radiol. 2021 Nov;76(11):838-845.

doi: 10.1016/j.crad.2021.07.012. Epub 2021 Aug 14. PMID: 34404517.
Explore our other solutions